#21 Jüri Vips (EST – Hitech Grand Prix Mecachrome Dallara)
Qualifying: 2nd – Race 1 Grid: 2nd – Race 1 Result: 4th
Race 2 Grid top 8 in reverse order: 5th – Race 2 Result: 4th
FIA F3 Championship position: 2nd – 112 points – after 10 of 16 races
Two fourth places was not all that Jüri Vips wanted from the FIA F3 weekend at the Hungaroring but it was enough to propel the 18-year-old Estonian into second place in the championship chase and close to just 12 points off the leader. Fellow Red Bull Juniors Yuki Tsunoda and Liam Lawson had strong drives in Race 2 finishing 6th and 9th.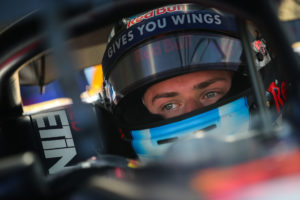 Vips a touch frustrated going forward

Honest, straightforward and self-critical as always, Vips was ambivalent about the weekend overall. "I did a good job in qualifying with second but I have to back that up in the races and the start in Race 1 was not acceptable if I am going after the championship. It's great that I moved up to second in the points and am just 12 off the lead, my competitors messed up this weekend and it's good when that happens," he chuckled. "So in that respect it was a good weekend."
"It is clear what we have to work on going forwards, I have to make a better job of the start." stated Vips who lost his second place off the line. "As it all worked out I don't think it cost us a lot of points, if I had scored a few more in the first race I would have been in a worse position in Race 2 but that's not the point. I have to be pretty much perfect all round if we are going to get this championship."
"In Race 2 we really struggled with the tyres, the track had changed and it was a bit of a lottery what set-up to go with. At the end of the race Hughes (Jake Hughes) was a couple of seconds quicker than anyone else so it was clear they happened to get it right," concluded the Hitech Grand Prix driver who had looked good for 3rd until the last few laps.
Source: www.juniorteam.redbull.com