HITECH GRAND PRIX RACER P1 AHEAD OF ARMSTRONG AND DARUVALA
Jüri Vips' last lap scored the Hitech Grand Prix man his first F3 pole position, during an intense final few minutes of today's FIA Formula 3 Qualifying. No fewer than five drivers held first in the final 90 seconds of the session, but Vips came out on top ahead of PREMA duo Marcus Armstrong and Jehan Daruvala.
The Championship leaders were the ones to beat at the start of the session, with Armstrong and Daruvala comfortably lapping quickest early on. Vips and Max Fewtrell soon got up to speed and were able to usurp the in-form pair.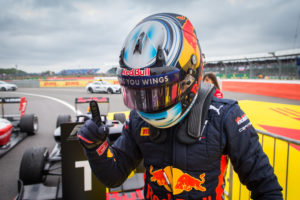 Armstrong was on the hunt for his second pole this season in as many rounds and reclaimed P1 as the cars began to feed back into the pit lane at the halfway stage. Liam Lawson nipped out ahead of everyone and pocketed P2 with the track to himself, but the Kiwi was pushed back down the order when the track filled up again.
Vips exchanged fastest laps with Niko Kari heading into the final minutes of the session, before Qualifying quickly heated up. Pedro Piquet stole P1 from the clutches of Vips with 90 seconds left on the clock, but was soon usurped by Robert Shwartzman and then Armstrong.
The Estonian had enough in the tank to return the favour and jumped back ahead to seal first, followed by Armstrong and Daruvala. Christian Lundgaard and Leonardo Pulcini completed the top five, ahead of Shwartzman, Lawson, Piquet, Fabio Scherer and Ye Yifei.
Source: www.fiaformula3.com