Up-and-coming Estonian Juri Vips took a sensational maiden win in the third round of the FIA Formula 3 European Championship at the Norisring – and came within six hundredths of a second of claiming a second victory!
The 17-year-old from Tallinn was on superb form on just his fourth race weekend in a Volkswagen-powered Motopark Dallara. He scored Rookie wins in the second and third races, and was on the Rookie podium for third in the opening race, meaning he now sits just 13.5 points off the top of the Rookie table. He is also sixth in the overall championship.
Vips was fastest in the opening free practice session, and just 0.002 seconds away from being quickest in the second session. But rain for the opening qualifying period set him back and he took eighth on the grid for race one. A poor start dropped him to ninth, but he recovered to finish seventh.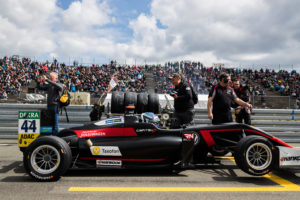 Second qualifying was a big improvement. Despite damaging his steering due to contact with the wall, Vips took fourth on the grid for race two, and second on the grid for the third and final race of the weekend.
Vips moved up to third on the opening lap of race two, then passed Marcus Armstrong for second after an early red flag. Just three laps later he passed Enaam Ahmed with a spectacular move for the lead, during which they brushed wheels, and pulled away to take victory by two seconds.
In the final race, Vips dropped to third at the start, but again he passed Armstrong on a restart. Then he set off after Motopark team-mate Dan Ticktum and, in a breathtaking finish, they crossed the finish line side by side with Ticktum just 0.057 seconds in front.
Jüri`s comments about the race:
"I've been really happy with the car and the progress we've made all weekend. I just didn't get it together in the wet in first qualifying, and made a little mistake on my fastest lap. I got a really bad start and I think I was down to 13th, before I made up four places in the next two corners. I spent the race behind Robert Shwartzman and I showed my nose a bit to him, but I didn't have the chance to attack – it was too risky.
"Second qualifying was much better, and even with damaged steering I pulled it out of the bag! I really thought about pitting because I'd hit the wall, but I'm glad I carried on. The win felt really, really special, especially starting from fourth and having to fight my way to the front. I'm over the moon. It was a fun battle with Enaam – it was really good racing and we provided one of the best fights of the weekend. For two laps it was just pure fighting!
"I got another bad start in the final race. I took a bit too much risk and nearly stalled the car, and that's how Dan got past me. On the second restart I managed to get past Marcus, but by then there wasn't much time left to catch Dan. With one or two more laps I could have put more pressure on him – actually, if the finish line was 150 metres further down the road, I would have won again! But he defended well, and it's great to complete a one-two for Motopark. Now I just have to nail it every weekend and see where I end up."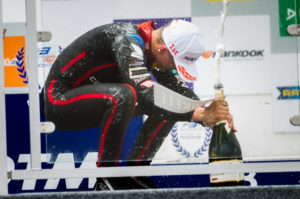 The next round is at Zandvoort in the Netherlands on 14th-15th July.
Author: Marcus Simmons